HPF Elektronik

BTS international, as exclusive US and Canadian representative, is proud to offer the equipment of HPF Elektronik.
With over 30 years supplying electronic and optical inspection systems, HPF Elektronik has been a world leader in Pharmaceutical and Medical Device inspection as well as serving the Food and Cosmetic industries.
Whether you need to inspect the contents of a thermoformed web for tablets, capsules, or device placement, correctness, or accuracy, or you need to verify a print image, find tears or pinholes in a foil web, or simply read a code, HPF Elektronik has a solution for you.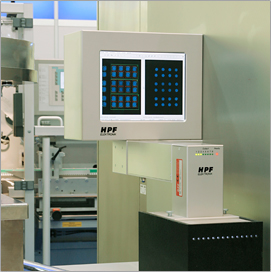 Fast, accurate, economical, and operator friendly are the hallmarks of HPD Elektronik equipment and systems.
Please visit their website for up to date information, specifications, downloadable brochures, .pdf's and explanations of their systems encompassing:
Blister inspection (B/W, Color cameras)
Tear and Pinhole Detection
Print Image Inspection
Ampoule checking
Code Reading
Infusion Checks
Track and Trace Solutions
...and a host of special applications
Where "Everything is Under Control"