S. TRAENKNER GMBH

BTS International LLC provides North American representation for S. Traenkner GmbH. for machinery sales, service and parts.
S. Traenkner GmbH, established over 40 years ago in Germany, supplies specialized solutions to the Pharmaceutical, Neutraceutical, and Food industries', feeding and storage problems.
For the handling of thermoformed blisters, wallets, flat pouches, and cartons, S. Traenkner GmbH offers several solutions. Blister feeders for cartoner retrofits, and stacking/accumulating machines (Model ST-E Rotary Magazine Stacker) are offered in several speeds up to 400 units/ minute. Unstacking units are also available.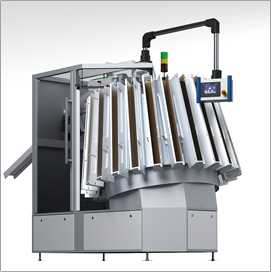 S. Traenkner GmbH's newest addition, a new Universal Buffer Magazine, (Model ST-U) offers format free storage of both stackable and non-stackable products. The modular design allows for storage capacity extension without redesign. The unit is available in single and dual lane versions offering feeding speeds of 200 and 400 units/minute.
Identifying a need for compact designs for bottle cleaners and bottle feeders, S. Traenkner GmbH offers both inline and rotary table fed versions of each.
Please visit their website for up to date information, specifications, downloadable brochures, .pdf's and explanations of their systems encompassing:
Blister Counting and Feeding
Blister/Wallet/Carton Rotary Accumulators
Blister/Wallet/Carton Rotary Unloaders
Universal Buffering accumulators
Bottle Cleaners
Bottle Feeders